If Istanbul is the most dynamic city in the world, then there is no doubt that Beyoğlu is the leading actor. Alkazar Sineması, one of the symbolic places of Beyoğlu, is turning into a brand new stage in collaboration with Nike. With "HOPE Alkazar", the city is given a new opportunity to revive sports, culture and art. For HOPE Alkazar, who focuses on social well-being, there are no physical or digital boundaries. While the dream of a more sustainable future has begun to take shape in our minds, this is an area where we can dream together for more. "Transformative power of movement" is the starting point of the renewed world of Alkazar, and there is no place for taboos here.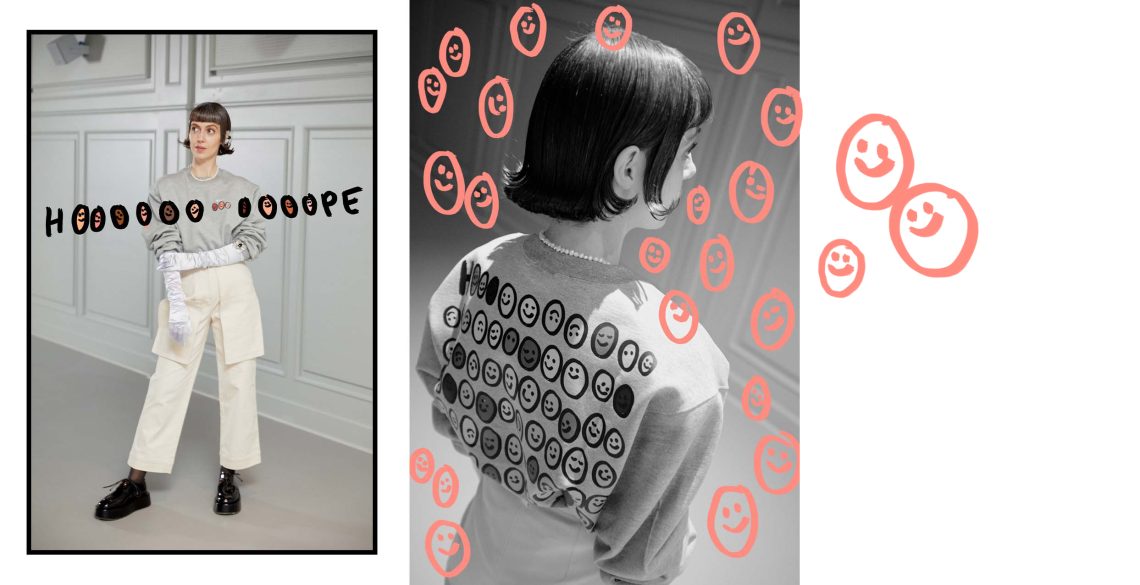 Speaking of taboos… Esra Gülmen immediately comes to mind. She shares her works, defined as "honest art", first on Instagram and then through different mediums, ranging from the streets to exhibition halls. Esra's works feed on popular art and popular culture. Conveying ineffable and uncomfortable ideas in a simple language and a touching form, Esra is one of the most important representatives of the "communication art" movement today. Particularly with the wide range of accessibility of Instagram, she can survey people's reactions before exhibiting and can explore new forms of expression for her work. "I like my works to tell a message, so I really like to look at what these messages turn into in different mediums. My work 'Bla Bla Bla' represents and conveys something standing behind my short hair, yet on a bag, this message turns into something completely different. The work, which I first produced as silk-screen printing, will soon turn into an NFT. In the future, I might print it on a couch. It has another meaning in furniture, another in a paper, another in clothing. That's why I like playing with what I'm doing, like my work 'Mountains Trees Rivers' turning into video art. Besides, I can't say that I'm working on a schedule. I really like to acton my instincts. I'm trying to do it very quickly and imperfectly so that it immediately passes from my heart to paper or whatever object I'm working on.
Empathy is the epitome of Esra's art! "Being different from the place and the family I was born into has thought me how hard it is to be different. So, I can say I am very empathic. I think I am able to understand others well. " She considers her own art to be "self-therapy". That's where her interaction with Alkazar begins. Esra Gülmen transforms HOPE Alkazar's sports studio into a giant work of art where she adopts the principles of equality, diversity and empathy with her largest physical installation inspired by HOPE. Equality and freedom are always at the forefront of Esra's art. Emphasizing that she "loves to work on gender identity," she often thinks and produces on the concepts of empathy and tolerance. Esra's art discipline is influenced by words and concepts! "I am very inspired by words and concepts in my art, I like to think about them very much. 'Hope' is also a very beautiful word, it's very deep and very positive. I was very excited to be working on this. When I was asked what kind of sports studio I would imagine based on the concepts of tolerance and empathy, I thought that the name of the place is HOPE Alkazar and that 'hope' is also a great word, I can do something about that. And I made a huge 'Hope' illustration. And I used the letter 'O' in the word in a very minimal way as smiley faces, I didn't count but there were dozens of them in the illustration. They are all different from each other, I drew them all one by one. They all have different smiles, different colours. HOPE Alkazar says that regardless of your background, your upbringing, where you come from, your race, gender identity, this stage is open to you and we support you. So I tried to visualize in a very positive and simple way how beautiful it is to be able to experience it and imagine it together." this 100m2 area is surrounded by mirrors on 3 sides and there is an immense, endless hope, a smiley face effect.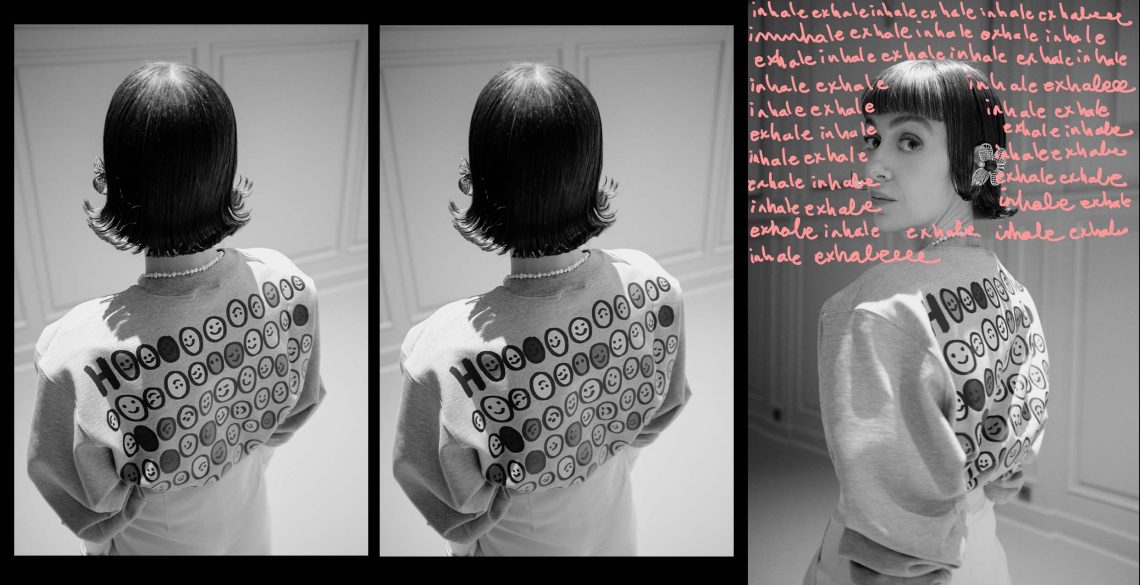 You can't be indifferent to a smiley face! "You smile when you see the work, and I like this effect of it. I believe that smiling is contagious, when people take a picture of it, they smile too, that's how they share it. I'm very happy to be able to touch people from such a beautiful place. And also, when I was working on Hope, I thought about other alternatives. One of them was 'inhale- exhale'. We also used it in the mirrors and the cabinets of the dressing rooms.
It is also a very self-explanatory design, it came up while questioning these concepts of tolerance and empathy. I asked myself what is the intersection of sports, tolerance, and empathy. Actually, the answer is very simple, inhale and exhale, these are the words we use the most when we exercise, do yoga, meditation. To be tolerant and empathetic to each other, we must first take a breath and stop.
"If you're breathing, you're listening. I tried to underline it. Because in fact, our only problem is not to listen to the other person. We always want to say something, and that's why we don't understand each other. So, I wanted to give a very minimal message like 'just do it,' inhale and exhale, be tolerant." This work, seen in the mirrors and in the lockers, reminds, in the most naive way, of the concept of "tolerance".
Esra, who met with artists, athletes and opinion leaders from different disciplines at the opening of HOPE Alkazar, says that the spirit captured with HOPE is hope itself. "When I came to Istanbul again, when I stepped into this place, with the energy of the place, I was able to acknowledge that beautiful things can still exist here. This is a very good thing. When talking about collaborations, saying 'we've become a family' seemed like a lie to me in the past. But now with Nike, it really did feel like family because the concepts we talked about were exactly the same…"
Esra, describing her strong connection with Nike as having the same perspective, says that the "just do it" motto of the company has become the centre of her own life. "People always ask me; 'How do you do so much work?' or 'How are you so brave?' I'm just doing it, I'm not really questioning it too much. I do it, look ahead and move forward. That's why I really felt this collab."
The works for HOPE Alkazar had been loved by so many people that both Nike and Esra thought about continuing this momentum and, eventually, works have been turned into a capsule collection. Created with the "timeless" pieces in Nike's collection, the capsule collection consists of t-shirts, sweatshirts, yoga mats, sports bras and tote bags. All proceeds of the collection, which will be put on sale at the Nike store in Beyoğlu on November 25, again serve a hopeful purpose and all of it will be donated to the Tohum Autism Foundation.
Esra underlines that working with Nike is every illustrator's dream; "At the end, it is my job, but it's also a work that I've been very, very emotional about. Since I can't maintain a strictly professional attitude with any of my work or my relationships, I work with brands and people with whom I can connect." It might sound cliché, but after all this talk, I can see in Esra's eyes that she is a part of the Nike family. I am looking forward to the new experiences of the duo who will meet again in various workshops and talks at HOPE Alkazar in the future.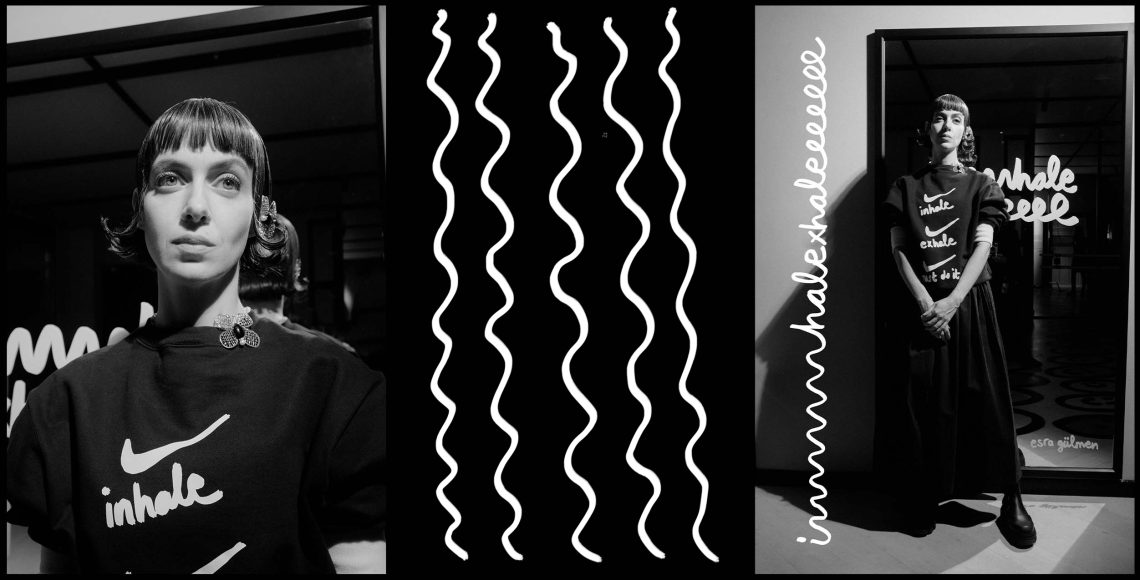 Using English in her works, Esra simply says that she is very used to thinking English for her work. In fact, it is far from the expected snobbishness. "I live in Berlin, there are people who follow me from Germany and from many parts of the world. Of course, I've always done my work in English so that everyone can understand. English is also a very poetic language, it allows you to play with words. And since it's not my native language, it also allows me to think more simply. This is very important for my work. I think much more complicated in Turkish."
We return to the story of the "Mountains Trees Rivers" work, which we now see in a video art form. "I didn't do it, thinking that it was a very clever idea, for example. I was invited to a group exhibition in Berlin, where a friend of mine was curating. When I asked what the topic was, they said Mountains. I usually feed on psychological problems and problems in life, not nature. I thought, 'Nature is boring, I'm not gonna draw birds or something.' (I should mention that she bursts into laughter while saying that) But it was also a good group exhibition and I didn't want to miss it. I usually work when I'm angry or upset about something. I thought I'd protest this boring topic and just write 'Mountains' on the paper. And when I was writing Mountains, I saw that there was a mountain illustration hidden in the 'M.' So, that's how typographic illustrations started, everyone also liked it very much. Then came Trees, Rivers. Then last year, Waves and Clouds were added to the series. They were even included in the joint exhibition of the Pilevneli x König galleries last summer. It's great to discover, even accidentally, that the illustrations are hidden in the words!" Believing that there is something wrong with everything, Esra likes to live as she feels. Unfiltered. The natural attitude of Esra's work makes most people think that they can do it too. "Of course they can, but it's what makes me who I am, and every artist who they are, to be able to do it consistently. The main thing is continuity. For example, I can paint right now, but that doesn't make me an abstract artist. I was on a stage with Johann König in Berlin last month. He also said; 'It's very important for an artist to have a signature.' When they look at it, they must know that Esra did it." So to what extent does Esra's handwriting have a similarity with her works? We all ask that question, so when you take a note on a piece of paper, will we see this effect as well? "It doesn't look much like it. But one day I can also do work where I only use Helvetica fonts. I can do it in an 'Esra' way too. Then my signature will be my short-cut way of thinking, my humour."
Esra, who is preparing to open her first solo exhibition in Istanbul in the coming months, calms herself by sharing her illustrations. I must add that she is stressed when she is happy and worried that she can't create, but unfortunately, it is always possible to find a problem in life when you are looking for it!
Stating that her biggest dream is to produce a statue that will be a symbol of the city for Istanbul and Berlin, Esra has recently left her 10-year advertising career behind and is moving forward as an artist which "is a big step for her." It is difficult for us Turks to leave our comfort zones and focus only on production, and leave behind the "guarantee yourself" barrier that has been ingrained in our minds wherever we are. We all know this feeling very well.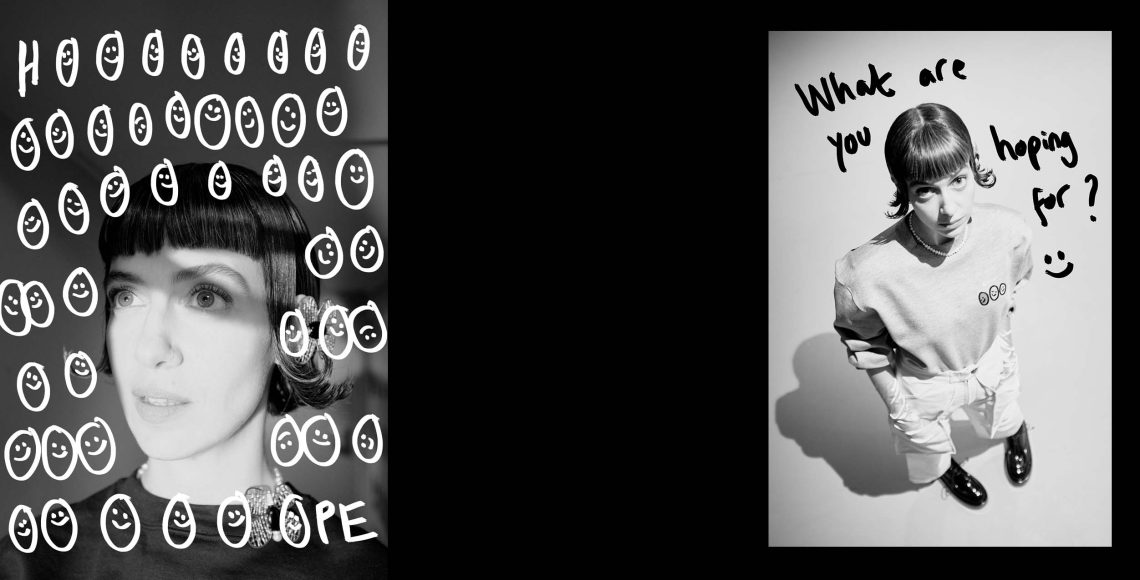 "Beyoğlu's face has changed a lot. But what bothers me is not the newcomers that everyone is talking about. I'm not uncomfortable with any ethnicity. It's just that there's nowhere left that I like, that I want to go and sit. This is a bit sad. Now we have HOPE Alkazar, it is our new home. I spent the last week there, I love its meeting point atmosphere, I hope we will bring back the lost spirit of Beyoğlu." What a great way to end this article! As someone who has known Beyoğlu in the early 2000s, finding something to be excited about again after 10 years is one of the best things that has happened to us lately! Especially the fact that the artists of this city are making it happen makes this an extremely sacred topic. Steer towards Beyoğlu and spend some time on the stage of movement with Esra's brave words, and without a doubt, humanism will get a hold of you!
EIC DUYGU BENGİ
Fashion by BURAK SANUK
Filmed by ECEM TUNGAZ
Photographed by ZEYNEP ÖZKANCA
Hair by AKIN ÜNAL
MUA BARIŞ YILMAZ
Production BI CREATIVE
Head of Production MİRAY SİNCER
Music by ARSAN SAĞLAR