He uses humor even at the darkness of negativity, manages to grip anyone who let themselves go with his paintings… We listened to his eccentric world from Ali Elmacı, in which it's heroes are characters and objects the world wouldn't bring together in reality.
Can you tell us a little about how you started making art? What attracted you to this world?
I remember as though the minute I held a pen and started to write, I also started to draw. I feel that I will continue this action until I leave this world. Because this is an innate thing, you are born with it and you die with it.
While we pick up the humorous approach in your works, we also realize the dark side of it, which makes us onder. How do you find this balance?
What I do is dark humor exactly, and I do it having irony as the origin. I approach all the bitterness that's spoken on a serious note with a humorous language, and shape it into my own form of expression. My goal in doing so is to put the spectator in a state where he/she doesn't know whether to laugh or cry.
How is your creative process like? Do you have the final picture in your head before starting a canvas?
First, I choose the subject I'll be working on and do research accordingly. And although I somewhat know what I'll be doing once I'm in front of the canvas, the result is always filled with surprises. I don't usually abide by anything.

As we look at your paintings, we start noticing new objects and the attention you pay to detail is evident. How does the multifaceted quality of your works contribute to the message you like to get across?
If you wish to build a solid wall, you must place the bricks in the correct manner and ensure that they are supporting one another. Each brick must mutually contribute to the other. I approach the objects I use in my paintings in this sense. While details are tools that lead us to the whole, they also make the message more intriguing.
Vibrant colors, floral patterns and oriental motifs are always evident on your canvases. How close is your aesthetic to the Turkish culture do you think?
I am an artist who feeds and creates from this geography; it is surely possible to see textures that belong here in my paintings. However, it is debatable how close the training I got and the language I use is to the Turkish culture. To tell you the truth, I am after what's universal.
Louis Vuitton patterns, the Adidas logo, the Superman symbol… You also have quite a bit of references to the popular "Western" culture. Can you say that through this, your paintings are more accessible to different masses?
Symbols don't merely represent an object or an event, they also define them. As symbols strengthen a sense of belonging, if they are repurposed from being a tool to being the aim, they become icons and start producing problems. And I include them to my paintings right at this point. In using mainly universal symbols along with local symbols, it facilitates reaching different audiences.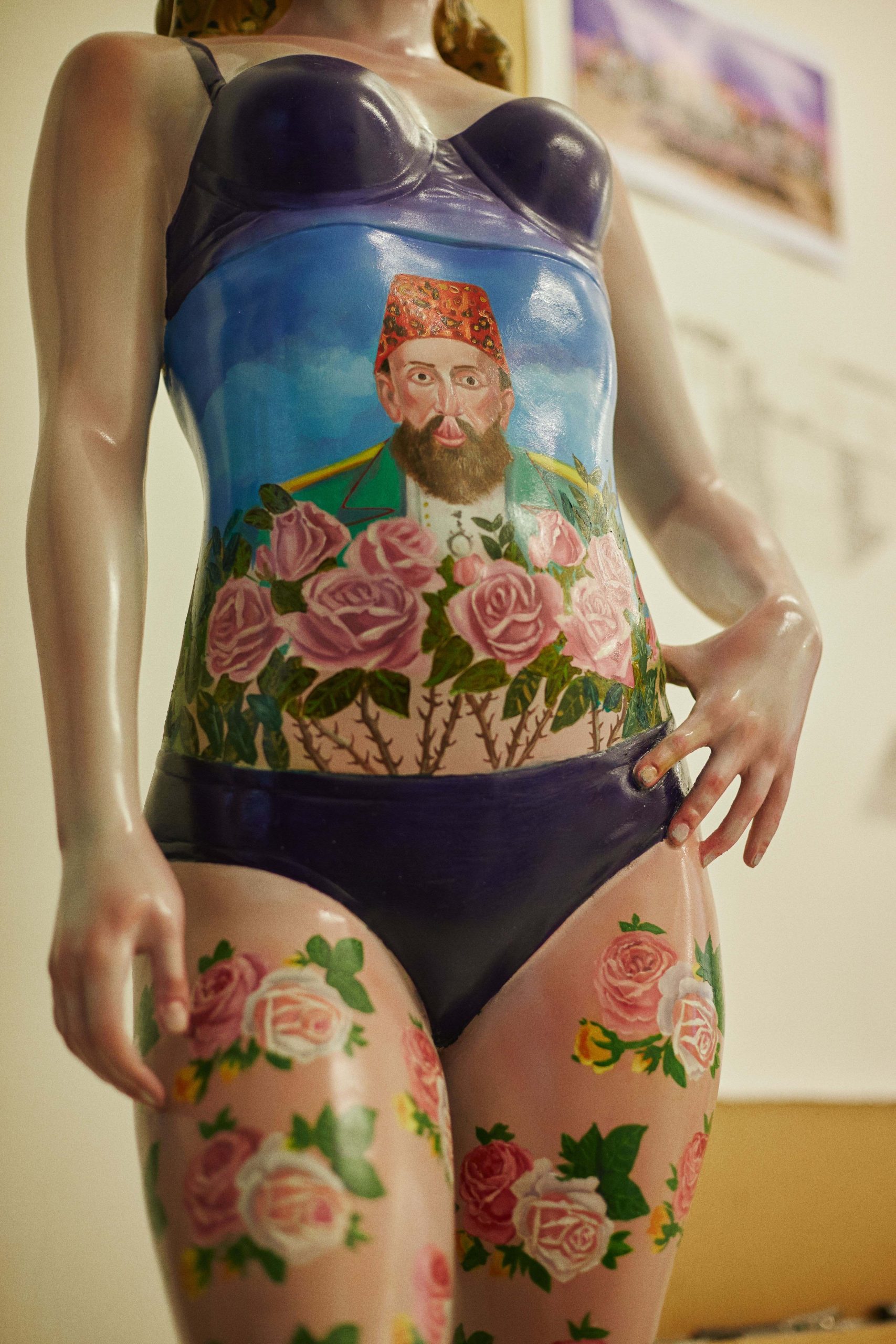 Where do the animals in your works, stand in your compositions?
Before distinguishing the figures in my works as animal or human beings, I should say this: I paint the picture of the ugly, and for me, ugly is anything that has a human being in it.
How do you foresee Istanbul's art scene changing in 5 years?
I can't even foresee tomorrow, but I can make some wishes. I hope we'll see that many independent art initiatives have opened along with established museums and galleries, and that we'll see strong collectors along with conscious art lovers stand close to art and the artist.